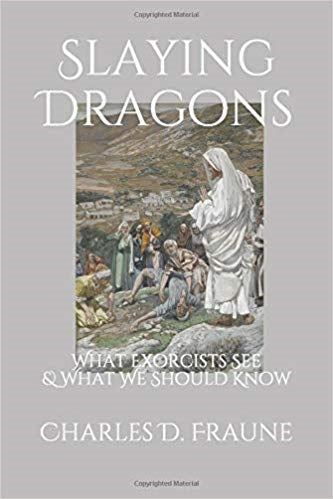 *Now with Nihil Obstat*
This book takes the great wisdom of some of the leading exorcists in the Church, including Fr. Chad Ripperger, Fr. Gabriele Amorth, Fr. Jose Antonio Fortea, Fr. Gary Thomas, among others, and packages it into an approachable and intriguing book that conveys, to today's Catholics, critical insights into the activity of the diabolical and spiritual warfare tactics with which we must be familiar. These exorcists pull their teachings from the sacred traditions of our Faith, the teachings of the Fathers and Doctors of the Church, the wisdom of exorcists under whom they were trained, and their own extensive experience in the realm of spiritual warfare, deliverance, and exorcisms. 
The purpose of this book is to help enlighten Catholics to the spiritual war in which we all find ourselves. Not only is this battle real, but the Church knows it well, and has provided both wisdom and weapons, teachings and sacramentals, to enable Catholics to fight in this battle into which they have all been drafted, and be victorious. 
"The devil prowls like a roaring lion, seeking to devour," as St. Peter says. These exorcists face this devil, and the many demons who fell with him, as a central part of their spiritual ministry. Let them teach you what they know and impart to you those things that will aid you most in your spiritual life. Allow yourself to be instructed by spiritual masters that you may learn the manner in which the devil attacks you, the weapons you have at your disposal, and the means to find healing for the wounds you have suffered in your life. Know your enemy. Know his tactics. Know his motives. Know his nature. Know his origin. Know his goal. Know his language. Know his network. Know his strengths. Know his weaknesses. Once this knowledge is obtained, you can more effectively predict your enemy's behavior, recognize his traps, use the proper preventative measures against him, and drive him away when he persists.
The purpose of this book is to help enlighten Catholics to the spiritual war in which we all find ourselves. Not only is this battle real, but the Church knows it well, and has provided both wisdom and weapons, teachings and sacramentals, to enable Catholics to fight in this battle into which they have all been drafted, and be victorious. "The devil prowls like a roaring lion, seeking to devour," as St. Peter says. These exorcists face this devil, and the many demons who fell with him, as a central part of their spiritual ministry. Let them teach you what they know and impart to you those things that will aid you most in your spiritual life. Allow yourself to be instructed by spiritual masters that you may learn the manner in which the devil attacks you, the weapons you have at your disposal, and the means to find healing for the wounds you have suffered in your life. Know your enemy. Know his tactics. Know his motives. Know his nature. Know his origin. Know his goal. Know his language. Know his network. Know his personality. Know his strengths. Know his weaknesses. Once this knowledge is obtained, you can more effectively predict your enemy's behavior, recognize his traps, use the proper preventative measures against him, and drive him away when he persists. 179 pages