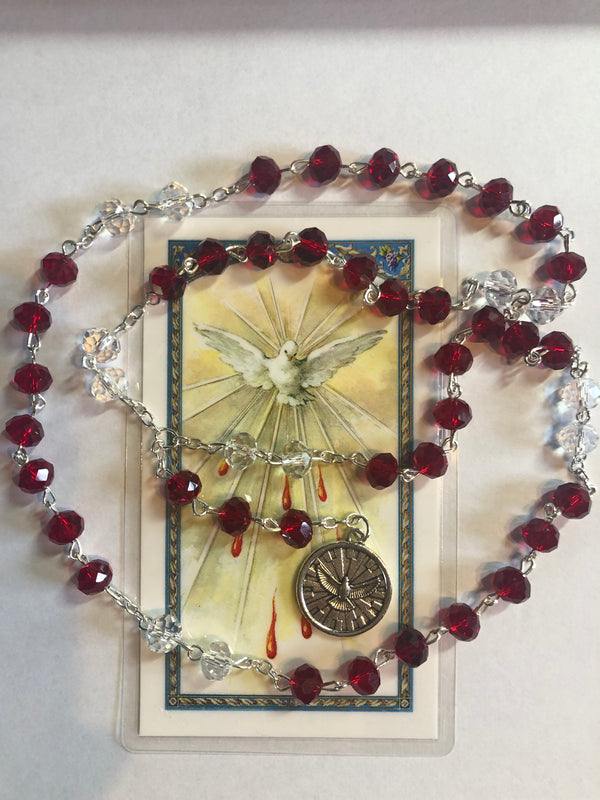 Pentecost Special!
Clear jewelry box contains red and white bead chaplet, holy card and instruction card on how to pray the chaplet.
The enclosed card: 
"This rosary consists of five groups of seven red beads. Before and after each group there are two crystal beads, that is twelve beads in all. In addition, there are three red beads at the beginning. On these three beads, one makes the Sign of the Cross, recites an Act of Contrition and and the hymn Come Holy Ghost. 
In each group the Glory Be is said on the seven red beads, an Our Father and Hail Mary on the two crystal beads. On the remaining two crystal beads (at the end of the last decade) are said the Apostles Creed and an Our Father and Hail Mary for the intentions of the Holy Father."
***
Come, Holy Spirit. Spirit of truth, you are the reward of the saints, the comforter of souls, light in the darkness, riches to the poor, treasure to lovers, food for the hungry, comfort to those who are wandering; to sum up, you are the one in whom all treasures are contained. Come! As you descended upon Mary that the Word might become flesh, work in us through grace as you worked in her through nature and grace. Come! Food of every chaste thought, fountain of all mercy, sum of all purity. Come! Consume in us whatever prevents us from being consumed in you. - St. Mary Magdalene de Pazzi  +