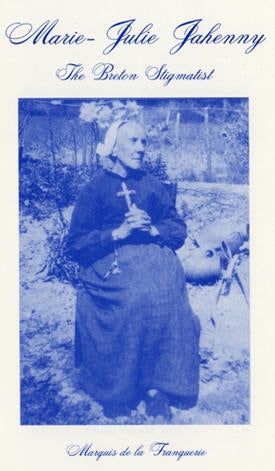 Marie-Julie Jahenny was born in a large peasant family, and later joined the Third Order of St. Francis.
During her life, she reported several apparitions of the Blessed Virgin Mary and Jesus Christ, through which she received prophecies about the end of the world, the great Catholic Monarch, punishment for the sins of the people, the destruction of Paris through civil war, the three days of darkness, and the coming of anti-christ. (The Three Days of Darkness is a prophecy based on private revelation among some Catholics. This belief is not endorsed by the Holy See.)
From the age of twenty-three until her death, she bore the stigmata, according to the testimony of witnesses, she experience supernatural attacks from the devil, had the gift of prophecy and miracles.
Marie-Julie predicted numerous chastisements for sin that would fall first on France then spread to the rest of the world.
This is a reprint in English of one of the original works about Marie-Julie, writeen by one of her contemporaries, the Marquid de la Franquerie. This is a very good introductory book on "The Breton Stigmatist", and will be of interest to those who have been seeking more information about this important mystic of our times.
For our discernment.