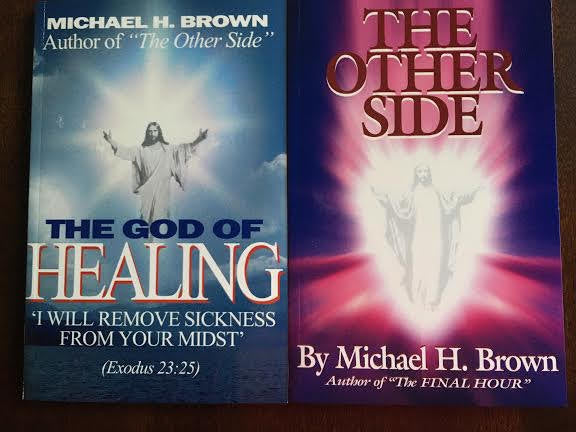 THE GOD OF HEALING:
Can God heal anything? Are there really extraordinary miraculous cures? Spiritually and physically, can we prevent many of the diseases ravaging modern man?
These are some of the questions approached by bestselling Catholic author Michael H. Brown in this book covering the breadth of natural and spiritual healing -- how we can improve our health and well-being -- and often longevity -- through changes in lifestyle and spiritual outlook.
For when there is darkness inside, it is often reflected in sickness outside.

Can disorders be demonic?
What about nutrition? What kind of spiritual approach is the most effective?

What
are
the changes must we make in our lives?
This is a book of miracles. It is a book that follows what Scripture says about supernatural cures. It is a book that clearly and powerfully demonstrates that Jesus heals as much -- or more -- today than He did when He walked this earth.

THE OTHER SIDE:

A faith-filled and journalistic look at what happens when we die -- including in-depth descriptions of death, the parting of the soul, 'judgment,' transition to the other side of the veil, and the various regions which at the highest reaches will astonish you with their splendor and light! Of all his books, one not to miss because no other could be as important! Actual testimonies from those who 'returned' and insights on preparing for the wondrous day we all can joyfully reach! Fresh information and real cases that lend to the sights and sounds and Light of Heaven! This is the bestselling book we have ever published. Autographed.