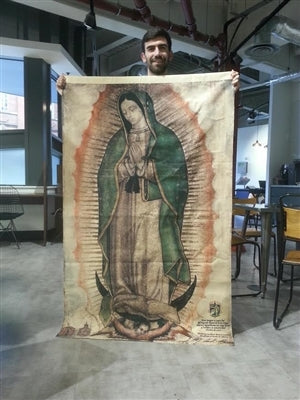 ORIGINAL SIZE: 68" H X 40" W (EXACT TO ORIGINAL) This image -- produced by the same man who created the statue of 'Our Lady of Guadalupe', in Hobbs, New Mexico, that is now exuding oil -- is made in Mexico and is produced using a high resolution file to bring you a precise digital image of the original, allowing the smallest details to become visible.

The original image miraculously created on a humble cactus fiber has been recreated using a 100% polyester faux henequen cactus fiber, allowing the new generation of sublimation printing to produce a premium full-color, photographic quality image that will not crack, peel or wash away from the substrate. Our print has hundreds of thousands of color shades.

The tilma is sown on top with a pocket for hanging.
Bring Our Lady of Guadalupe, Patroness of the Americas, as declared by St. Pope John Paul II, into your home. Feast Day: December 12.

Other Sizes Available: