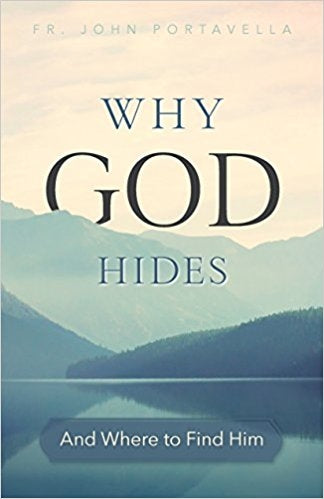 Why does God hide day-in and day-out from those of us who yearn to hear His voice? When we do good, there's no heavenly applause. When we do evil, no divine rebuke. And when great horrors visit us, He rarely intervenes. In good times and bad, there's just silence . . . the awful silence of God.
Now comes Why God Hides, this magnum opus of Fr. John Portavella, written after many decades of listening to God's silence in his own life and in that of thousands of his parishioners. Those years of listening, reading, thinking, and praying have made ever more clear to him and with the help of this book, will make clear to you that, in fact . . .
God is not silent nor is He hidden,
if only you know how to listen
and learn where to look.
Time and again in the events of salvation history and in the trials and joys of our daily lives, Fr. Portavella here unveils the Face of God and lets us hear His voice, speaking in every instance words of sweet love.
Why God Hides is a remarkable, once-in-a-lifetime book that scatters the darkness of our minds, giving us myriad glimpses of our supposedly hidden God, bringing with each of those glimpses the consolation and joys we have yearned for so long. 288 pages