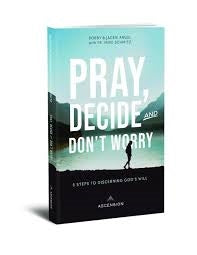 Pray, Decide, and Don't Worry: Five Steps to Discerning God s Will equips Catholics with a clear five-step discernment process for navigating what St. Ignatius of Loyola calls "the movements of the soul", the deeper realities that clue Catholics in to what God is doing deep within their hearts and where He is leading them.
Drawing from the rich tradition of the Church and powerful insights from the saints and the Bible, this invaluable resource teaches Catholics how to recognize God's voice, how to discern spirits, how to know which vocation God is calling them to, and that it's possible to be in the waiting yet fully joyfully alive at the same time.
After reading this book and following this five-step discernment process, Catholics can be at peace with their decision knowing that they have truly discerned God's will.