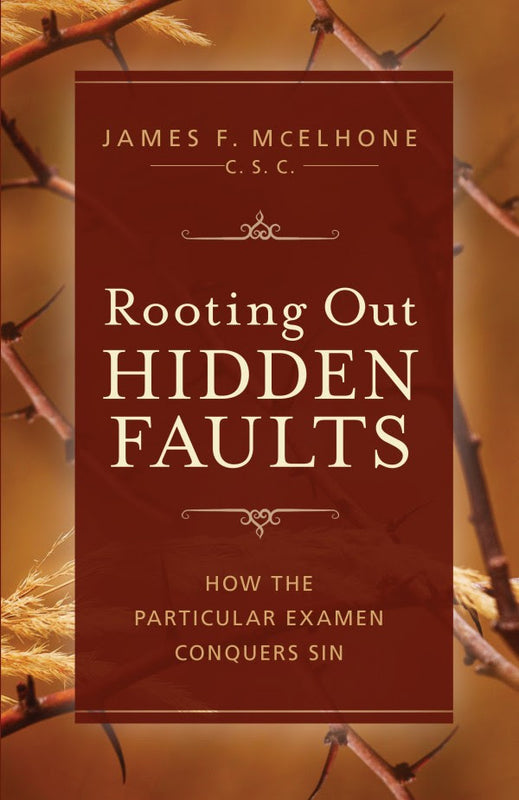 In his new book "
Rooting Out Hidden Faults
," Fr. James F. McElhone arms readers with the most powerful weapon to beat habitual sin: the 
particular examen
.
A particular examen is centered in the five wounds of Jesus and includes prayers, a sample format, and predominant faults to avoid in prayer, work, study, and recreation.
This reprint of the 1952 classic contains prayers for each topic from the traditional Roman Missal. Fr. McElhone helps readers to cultivate the frame of mind—and heart—necessary for fruitful meditation. He offers tips on how to determine one's dominant sin and assess one's progress daily through the particular examen, as well as develop practical, personal resolutions and a firm purpose of amendment.
At some point in their lives, most Catholics find themselves confessing the same sins repeatedly. These targeted reflections will assist readers in overcoming these persistent faults.
"
Rooting Out Hidden Faults
" is an invaluable aid to all Catholics—priest, religious, or lay—wishing to develop a plan for spiritual holiness. It provides self-inventory questions for each of the major vices, clears up misconceptions about them, and recommends the best modes of attack.
Readers will learn ways to conquer temptation and devote themselves wholly to God's service. Once detached from a particular habit of sin, Fr. McElhone teaches how to attach oneself to God's love by contemplating the cardinal and theological virtues.
If a reader's root sin is a type of pride, this book will show them how to cultivate the corresponding virtue of humility. If a reader's predominant fault is avarice, the biblical references provided will bolster their thoughts of poverty in spirit instead.
Penetrating reflections are offered to overcome lust with purity, anger with meekness, gluttony with temperance, envy with common sense, and sloth with zeal.
Fr. McElhone also guides readers in a meditation on the lives of Jesus and Mary.
"Life is a warfare, a battle," writes Fr. McElhone, "The greatest battles have been fought, not on fields reddened with blood, but in the soul, where the battle is intensified by the powerful forces of good and evil striving for the priceless gift of God—the human soul."