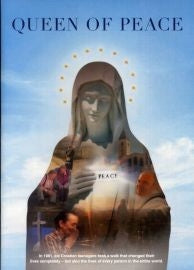 "Interweaving never-before-seen archival footage from the early days of the apparitions, with exclusive interviews with the visionaries themselves. "Queen of Peace" gives an unparalleled account of the events taking place in Medjugorje.

Documentary includes:

- A first hand account of the first days of the apparitions as told by Mirjana and Ivanka, the first two visionaries to see Our Lady on June 24, 1981.
- An extensive overview of the medical and scientific testing performed on the visionaries
- Our Lady's messages
- Testimony of conversion and physical healing from pilgrims who visited Medjugorje
- An emotional and full-length apparition to visionary Mirjana
- Exclusive interviews with the visionaries
- Archival footage weaved throughout

Runtime: 66 minutes
Free shipping for US domestic only.