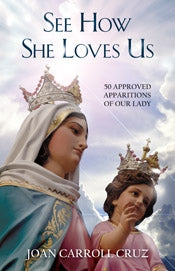 See How She Loves Us: 50 Approved Apparitions of Our Lady is an amazing collection of apparitions of the Blessed Virgin Mary from best-selling TAN author Joan Carroll Cruz. Ranging across twenty-three countries and two millennia the visions chronicled here show Mary s deep love for mankind, her Son, and the Church.

Joan Carroll Cruz has meticulously researched fifty apparitions of Our Lady. Discover lesser known apparitions like Our Lady of La Vang in Vietnam and Our Lady of Las Lajas in Columbia, and learn more about the visions of Mary at Fatima, Lourdes, and Guadalupe.

Approved by the local bishops or the Vatican, these miracles show Mary s great love for man, her constant intercession on our behalf, and her role as protector of the Church.

Perfect for Catholics and non-Catholics alike, See How She Loves Us sheds light on the many mysteries of the Catholic Church and Catholics love for the Blessed Mother. Fifty Approved Apparitions of the Virgin Mary, new, by Joan Carroll Cruz, ranging across twenty-two countries and many centuries, meticulous fascinating details you have never heard and apparitions you may never before have encountered, showing her love and caring for man and the Church -- with Our Lady's powerful messages and intercessions!