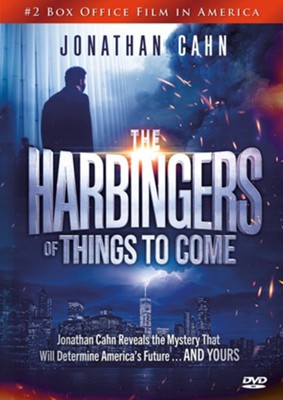 THE HARBINGERS OF THINGS TO COME  DVD - JONATHAN CAHN
Is it possible that what has happened to the United States and the world, from COVID-19 to 9/11, are part of an ancient mystery? Is it a warning? Does the mystery tell us what is yet to come? Do we have the key to uncover it?
New York Times best-selling author Jonathan Cahn takes audiences on an epic journey from an island off of Massachusetts Bay to the Supreme Court, from Ground Zero, through the New York Harbor, to the Statue of Liberty to uncover this stunning mystery.
Uncover…
· The ancient signs that warn of impending calamity
· The mystery that goes back to the prophet Jeremiah that pinpointed 2020 as the year a plague would come to America
· The harbingers that appeared in the last days of an ancient nation that have now appeared on American soil
· What all these things reveal about what is still to come
· The key, the hope, and what you need to know about the future
DVD: Run Time: 1 hour 29 minutes